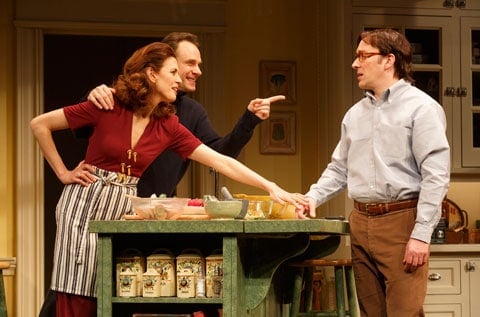 BY NAVEEN KUMAR
A finely tuned and resonant drama written with impeccable
wit, Richard Greenberg's new play The
Assembled Parties, which opened on Broadway last Wednesday in a Manhattan
Theatre Club production at the Friedman Theatre, manages to meaningfully encompass
mortality, ambition, legacy, and the hidden nature of love—and that's only in
the first ten minutes.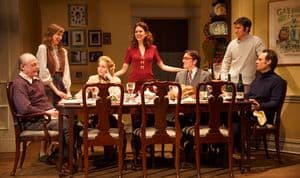 Set in a labyrinthian Central Park West apartment (beautifully
designed by Santo Loquasto), the play follows the lives of an upper crust
Jewish family across a twenty-year span, with the first act set on Christmas
day in 1980, and the second on the same day in 2000.
When the play opens, a handsome young middle-aged couple, Julie
and Ben Boscov (Jessica Hecht and Jonathan Walker) are hosting Christmas
dinner—though all of the assembled parties are in fact, Jewish. Scotty (Jake
Silbermann), their oldest son and family golden boy, has deferred admission to
Harvard Law, derailing their idea that he's destined for greatness.
Scotty's friend and former classmate Jeff (Jeremy Shamos),
who accepted his own admission and just completed his first semester, joins the
family for dinner. Rapt by their posh sophistication, he makes a concerted effort
to insinuate himself with Scotty's parents, and Julie in particular.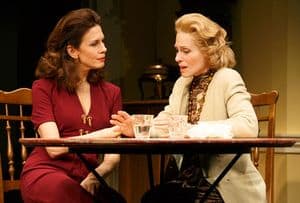 Ben's wry sister Faye (Judith Light) arrives with her
husband Mort (Mark Blum), and their awkward 30-year-old daughter Shelley (Lauren
Blumenfeld). Though their mother made her life miserable after Faye's unplanned
pregnancy with Shelley and shotgun wedding to Mort, Faye urges Ben to visit her
in the hospital as she lingers on her deathbed.
Details about each intricately drawn character unfold
strategically through the play's end, even for those who don't return twenty
years later for its second act. The entire cast is top notch, though ultimately
the evening belongs to Jessica Hecht and Judith Light, whose skills with
language and emotional nuance are truly marvelous.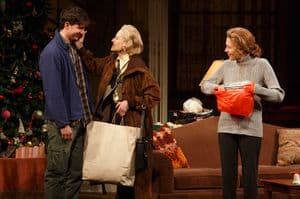 Greenberg contextualizes his domestic portrait within broader
historical patterns, with each act set during election years that marked the beginning
of two double-term Republican presidencies (Reagan in the first, and Bush Jr.
in the second). Both years also mark a naïve sort of calm before New York was
thrust into the center of landmark national crises—the height of the urban AIDS
crises, and the events of September 2001.
Our knowledge of what's to come casts subtle shadows over
the insular world of the play, as the classic mores of drawing room drama are carefully
placed within a contemporary American framework. Greenberg's New York is at
once timeless and mythical, and decaying brick and mortar. Had Edith
Wharton been a post-war Jewess, she couldn't have written it
better herself.
Recent theatre features…
Playwright Douglas Carter Beane is Back On Broadway With 'The Nance:' INTERVIEW
 'Matilda The Musical' Opens On Broadway: REVIEW
'Kinky Boots' Opens On Broadway: REVIEW
Michael Urie Takes On Barbra Streisand in 'Buyer & Cellar': INTERVIEW
Nora Ephron's 'Lucky Guy' Starring Tom Hanks Opens on Broadway: REVIEW

Follow Naveen Kumar on Twitter: @Mr_NaveenKumar (photos: joan marcus)