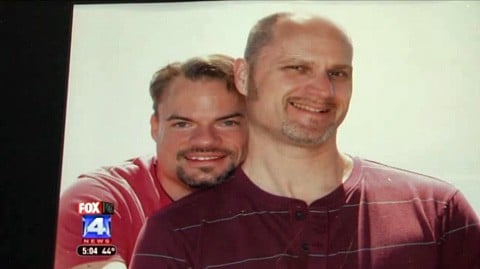 New information is emerging in the story of a man who was arrested at the hospital for refusing to leave his sick partner's bedside. A story reported by Kansas City's WDAF yesterday quickly went viral. They said Roger Gorley was put in handcuffs after the hospital refused to recognize him as the caretaker of his sick, longtime partner Allen.
The hospital released a statement yesterday saying that Gorley was acting belligerently and "created a barrier" for them to care for the patient:
We appreciate your concern and would like to assure you that Research Medical Center puts the care of our patients as our #1 priority regardless of sexual orientation. We support all the communities we serve. We have a long history of commitment to a culture of diversity. Research Medical Center was one of the first hospitals in Kansas City to offer domestic partner benefits, which have been in place since 2005, and we have had a policy specifically acknowledging domestic partners' visitation rights in place for years.
This was an issue of disruptive and belligerent behavior by the visitor that affected patient care. The hospital's response followed the same policies that would apply to any individual engaged in this behavior in a patient care setting and was not in any way related to the patient's or the visitor's sexual orientation or marital status. This visitor created a barrier for us to care for the patient. Attempts were made to deescalate the situation. Unfortunately, we had no choice but to involve security and the Kansas City MO Police Department.
We would also like to correct the misinformation about a restraining order. There was no issue of a restraining order by the hospital.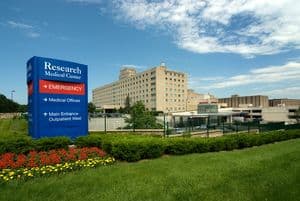 Today, WDAF has a follow-up on their story, saying that Gorley had a confrontation with the patient's brother:
Roger Gorley said he just wanted to be there for Allen, his partner of almost five years. When he arrived at the medical center on Tuesday, Allen's brother confronted him and told him to "back off."
Gorley said he had the power of attorney and had every right to be there. However, HCA said Gorley did not present proof of "power of attorney" during that particular visit.
"'This is my brother — I will take care of him,' and I said 'No, this is my husband I have taken care of him for some time,'" Gorley said.
Gorley claims a nurse wouldn't accept him as Allen's husband and had him escorted out by security. He was later arrested by Kansas City, Mo., police.
However, HCA said the decision to ask Gorley to leave was because Gorley and Allen's brother were fighting inside the hospital room.
"When the nurse went in to ask them to please quiet down and please stop this and they continued, and every time they stepped out it would get escalated, so she stepped back in and asked them to remove themselves for the sake of the patient at the moment," said Rob Dyer of HCA.
At one point, Dyer said security footage shows a nurse backing out of the room and Gorley was swearing at her, pointing his finger close to her face.
John Aravosis at Americablog spoke with Gorley's daughter. She confirms there was a dispute between Gorley and the patient's brother but says the brother "was being more disruptive and belligerent than her father, yet the hospital had her father removed", the nurse knew what was going on, and knew the relationship between Gorley and his partner.
She also says that when the police arrived the struggle to remove Gorley drew blood and the officers freaked out:
The police considered that a violation of a direct order, so they began to forcibly remove him from the room. My father held onto the rail of the gurney as well as his husbands hand with everything he had. The police responded with brut and excessive force. The office began karate chopping his wrist to get him to release the gurney. Then they wrestled him to the ground forcefully enough to knock his glasses off of his face, his hearing aids out of his ears, and nearly break his wrist while they took him down. To handcuff him, they pushed a knee into his back and wrenched his wrists around.
It didn't end there. The police changed his handcuffs 4 times! They assumed because he was a gay man that he was HIV+. When they drew blood from accosting him in such a brutal manner they freaked out. One of the arresting officers was so offended by my father's presence that he would not touch him with his bare hands. He wore gloves the entire time and to make matters even more humiliating he didn't want his handcuffs back. He grabbed them with gloves on, then another layer of gloves pinched between his index finger and thumb as he handed them off to another officer. The officer taking the handcuffs looked at him like he was crazy and just grabbed the handcuffs with no issue.
Meanwhile, the federal government is looking into it:
At President Obama's direction during his first term, Health and Human Services Secretary Kathleen Sebelius issued regulations mandating that hospitals that receive Medicaid or Medicare funds allow patients the right to have visitors of their choosing, regardless of sexual orientation.
Centers for Medicare & Medicaid Services (CMS), which enforces the regulations through coordination with the states, is looking into the situation. CMS spokesman Brian Cook told BuzzFeed Thursday afternoon, "CMS is aware of this specific issue and we are working to gather the facts and determine what steps to take in a speedy manner."
"All Americans are guaranteed the right to receive hospital visitors that they designate, and there are specific protections in our rules for same-sex couples across the country," Cook added. "We take alleged violations of federal rules around hospital visitation very seriously."
Zack Ford also has an excellent set of bullet points on what actually happened, noting:
With these details, both the hospital's and police's actions seem more suspect, not less. At the foundation of the story remains the fact that Roger and Allen's relationship was treated as inferior. Because they did not have a state-recognized marriage, they were regarded as legal strangers despite even having set up the available legal protections for each other. Roger, in turn, was subjected not just to discrimination but police brutality and legal consequences. This tragic story speaks volumes about the consequences of continuing to deny same-sex couples the right to marry and how they continue to be treated as second-class citizens. Notably, not one conservative organization has mentioned this story since it broke.