Family Research Ciuncil Tony Perkins has instructed his supporters to stop donating to the Republican Party, CNN reports: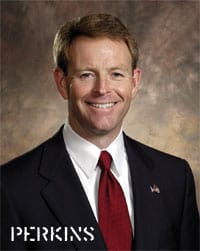 Perkins, president of the Family Research Council, made the request in an email to supporters of his organization, as members of the Republican National Committee met in California to discuss campaign strategy and political messaging.
"Until the RNC and the other national Republican organizations grow a backbone and start defending core principles, don't send them a dime of your hard-earned money," Perkins said in the email, a copy of which was obtained by CNN. "If you want to invest in the political process, and I encourage you to do so, give directly to candidates who reflect your values and organizations you trust-like FRC Action."
Perkins also signed a letter I reported on yesterday from 12 other conservative leaders urging the RNC to reaffirm support for DOMA and a federal amendment banning gay marriage or they were leaving the GOP.
Added Perkins in the email obtained by CNN:
"Instead of trying to appease millennials, Republicans should try educating them on why marriage matters. There's an entire group of 'Countercultural Warriors' full of compelling young leaders who are all going to the mat to protect marriage."