The Republican National Committee is set to convene tomorrow at the Loews Hollywood Hotel in L.A. for a 3-day spring meeting where they will discuss the party's direction and vote on several motions, one of which would reaffirm party opposition to same-sex marriage, reports Chris Moody at Yahoo's The Ticket: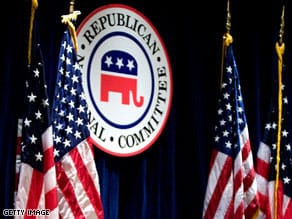 At the meeting, a group of state party leaders is expected to submit a set of proposals to the RNC's Resolution Committee that aim to "re-affirm conservative principles." One in particular will take the temperature of the party's opposition to same-sex marriage. (The official Republican platform, which was approved at the national convention last August, calls for a constitutional amendment that would effectively ban same-sex marriage.)
According to the text of a marriage resolution, which was acquired by Yahoo News, the RNC panel will vote on a resolution stating, "[T]he Republican National Committee affirms its support for marriage as the union of one man and one woman, and as the optimum environment in which to raise healthy children for the future of America; and be it further resolved, the Republican National Committee implores the U. S. Supreme Court to uphold the sanctity of marriage in its rulings on California's Proposition 8 and the Federal Defense of Marriage Act."
While the result of the vote could reveal a headline-grabbing schism among party leaders over the issue, the same-sex marriage issue will likely not be the focal point of the conference.
The text of the resolution, via Yahoo! (click to enlarge):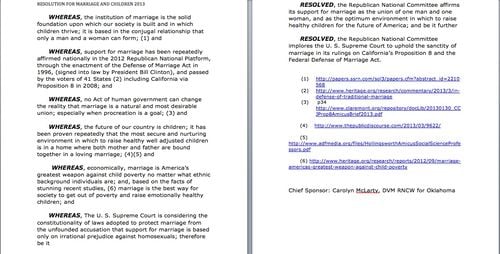 UPDATE:
Zack Ford at Think Progress notes that the six points the resolution attempts to make are backed up by citations from Mark Regnerus's politically-motivated junk science study on the inferiority of same-sex parenting or NOM's talking points.