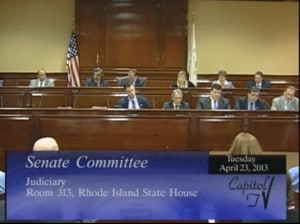 After a very brief debate, Rhode Island's Senate Judiciary Committee has advanced the marriage equality bill to the full Senate in a 7-4 vote.
The entire Senate could take up the bill as early as tomorrow.
Rhode Islanders United for Marriage released a statement:
"This is an incredible and historic step forward in the campaign to ensure all loving, committed couples in Rhode Island have the freedom to marry," said Ray Sullivan, Rhode Islanders United for Marriage campaign director. "We are pleased and proud that the members of the Judiciary Committee were so receptive to the thousands of their constituents who reached out and urged them to vote yes on Senator Nesselbush's bill. We will continue to connect the supermajority of Rhode Islanders who support marriage equality with their senators before a floor vote, and believe we have the momentum to achieve victory on this critical issue."
In addition to S38, the committee also voted 6-5 to defeat S708, which would have put marriage equality to a statewide referendum in 2014.
"Members of the committee heard from their constituents in strong opposition to putting fundamental rights on the ballot, and we thank them for defeating this divisive and harmful referendum bill."