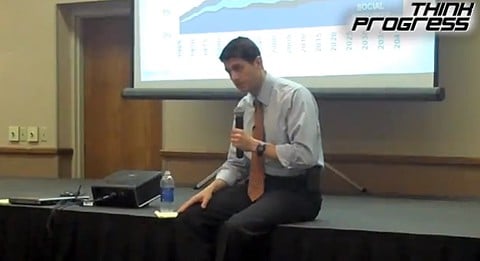 Rep. Paul Ryan (R-WI) spoke to a town hall in Wisconsin on Monday and was asked about his positions on ENDA, gay adoption, and same-sex marrage, Think Progress reports.
Ryan told the audience that he supports ENDA, and voted for it, but would have to take another look at it when you add transgender protections. He also said that he supports gay adoption, something he voted against in his first term.
He does not, however, support those adopted kids having married parents.
Said Ryan: "I do believe that if there are children who are orphans who do not have a loving person or couple I think if a person wants to love and raise a child they ought to be able to do that. Period. I would vote that way. I do believe marriage is between a man and a woman, we just respectfully disagree on that issue."
Watch, AFTER THE JUMP…