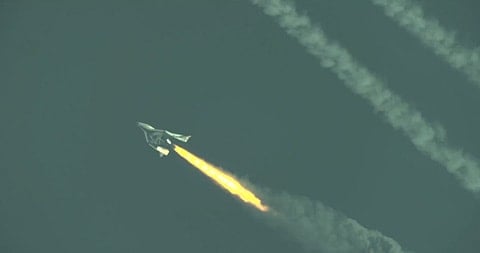 Civilian space travel got one step closer yesterday as the first private spaceship designed for space tourism fired its rockets for a few seconds and broke the sound barrier.
Mashable writes:
Virgin Galactic's SpaceShipTwo space plane fired its rocket engines for the first time during flight this morning in a test from California's Mojave Air and Spaceport. The vehicle was carried aloft by the mothership WhiteKnightTwo, and then released in midair at an altitude of about 46,000 feet. At that point, SpaceShipTwo test fired its rocket engine, designed to propel the craft of the rest of the way up to space.
After a short 16-second burn today, SpaceShipTwo reached a maximum altitude of 56,000 feet before flew back to Earth. The trip marked the 26th test flight of the vehicle, and the first "powered flight," which propelled the ship to Mach 1.2, fast enough to beat the speed of sound, which is 761 miles per hour.
Watch, AFTER THE JUMP…