The office of Washington lawmaker Mike Hewitt, the co-sponsor of SB 5927, a bill that would amend our anti-discrimination laws to allow businesses to discriminate against gays and lesbians because of their "sincerely held religious beliefs," is handing out some interesting advice to gay constituents calling in with concerns about the bill: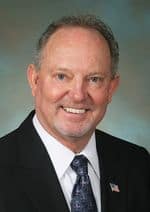 "Well, gay people can just grow their own food."
That's what one staffer told Slog reader Jay Castro on Friday.
Reports Anna Minard at Slog:
When Castro then asked the male staffer his name, he refused to identify himself, reportedly responding, "I don't have to tell you that," then, "Don't call here again," and hanging up the phone. This happened at around 11:00 this morning.
About an hour after Castro's call, I called Hewitt's office myself to find out if—and more importantly why—government staffers are telling gay people to "grow their own food" if straight Christians don't want to sell them groceries. My conversation was brief, to say the least. When I asked about the bill, the male staffer who answered the phone immediately directed me to a spokesperson for the state Republicans. When I clarified that I was calling to ask about Hewitt's sponsorship of the bill in particular, he said he had no comment.
The bill is not expected to pass but is getting attention because of the case of florist Barronelle Stuzman.