The Boy Scouts, whose national council is currently in a meeting at its headquarters in Dallas, plans its long awaited vote on the organization's gay ban today, the NYT reports: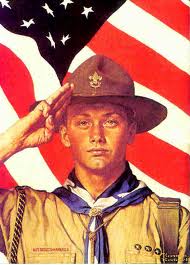 In a secret ballot, more than 1,400 volunteer leaders from scouting's 270 councils will accept or reject a proposal that has led to strident divisions and debate. The emotions were evident Wednesday outside the conference center here in a suburb of Dallas, where dozens of conservative Christians, many in scout uniforms, carried "no" signs and waved American flags.
"We're trying to uphold traditional values," said Bill Lizzio, 58, a scout leader who had driven from Tennessee to register his concern.
Angry parents threatened to pull their sons out of scouting, saying they would never let them share a tent with a gay boy. Current and former Boy Scouts who want to end the exclusionary policy, including several who were forced out of scouting for being gay, gave their own news briefing.
David Rice, 84, of Petaluma, Calif., who said he was ejected as a scout leader in 1998 after he publicly advocated including gays, said that if scouting did not change with the culture, "it will be left behind."
"We cannot afford to lose this American icon," he said.
As you'll remember, the Boy Scouts' new proposal is to allow gay scouts in but continue to ban gay leaders, a proposal called unacceptable by LGBT organizations and many observers. Read the proposal HERE.
Reuters reports:
Gay rights activists called for delegates to approve the policy change and vowed to continue their efforts until the Boy Scouts lifts its ban on gay adult leaders as well.
"There is nothing Scout-like about exclusion of other people, and there is nothing Scout-like about putting your own religious beliefs before someone else's," said Zach Wahls, an Eagle Scout raised by two lesbians and founder of Scouts for Equality.
Gay rights advocates gathered petitions with more than 1.8 million signatures supporting an end to the ban. Supporters of the current policy gathered petitions with about 250,000 signatures.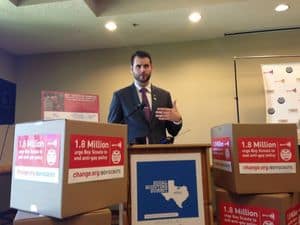 Adds the L.A. Times:
If the proposal passes as expected, some troops and the religious groups that sponsor them will withdraw from the national organization, they have said — a dangerous possibility for a group whose membership has decreased by nearly 19% during the last decade, according to the most recent figures from 2011.
Orr said that her troop leaders planned to meet to discuss what to do but that nationwide "there will be a huge loss of membership and revenue." About 70% of troops are sponsored by religious groups, and the ban is backed by the Southern Baptist Convention, Family Research Council and other conservative religious organizations.
"My religious beliefs cannot be compromised," said Mike Duncan, 46, a scoutmaster who described himself as Christian and traveled to the protest from Johnson City, Tenn., upset that opponents of the ban have brought sex and politics into Scouting.
"They're asking churches to support something that is wrong," he said.
GLAAD has been updating a live blog on the ground in Dallas and former Eagle Scout Zach Wahls and ousted den leader Jennifer Tyrrell have been speaking at press conferences…check out their photos and videos here.
Scouting for Equality's Wahls wrote a strong editorial for PolicyMic yesterday. Here he is speaking at yesterday's press conference on the ground in Dallas.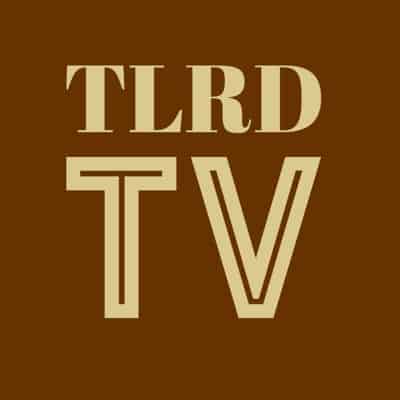 (images above, via glaad)