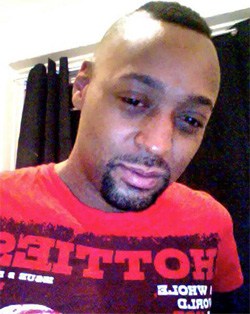 Progress sometimes breeds backlash, but that's not the whole story behind a hate-filled gunman shooting Mark Carson (right) in the head at West 8th and Sixth Avenue on Saturday. Mark's tragic, unnecessary, and violent execution followed quickly on the heels of two other anti-gay attacks near Madison Square Garden, where gay couples were brutalized simply for being gay. In response to these attacks, the community is gathering today at the LGBT Community Center, marching to where Mark was killed, and hearing from our leaders about what can be done.
But it's not entirely clear everyone understands what we're fighting for. A quick (admittedly unscientific) survey of the several press releases, Facebook posts, and other announcements about this evening's rally reveals a few telling clues: Out of 39 Facebook posts about the attacks, Mark's death, and the rally, 27 of them included some iteration of the phrase "Take back our …" city, neighborhood, town, and so on. Nearly all of them referred to the progress we've made on winning the freedom to marry. Nine even referred to those talking heads that have said that the debate over marriage is over and we've won. Various press releases from our community leaders and elected officials expressed understandable outrage at these heinous attacks, but also talked about "not going back" to a time when New York City was a dangerous place for gays to live. 
That's not what this rally should be about. Any suggestion that we're taking back the city streets implies that they were, at some point, ours. Any defiant proclamation that we refuse to return to a time when the City was dangerous ignores the fact that the City is still pretty dangerous for openly gay members of many minority communities, including the African American, Dominican, and Puerto Rican communities, to name just a few.
Backlash may be playing a role. So too is the tacit endorsement of anti-gay violence offered by the rabid anti-gay hate spewing from our elected officials. Still, we cannot forget that despite the 55 % of the American population that supports the freedom to marry, there are thousands of towns, large and small, where walking-while-gay is an invitation to violence.
CONTINUED, AFTER THE JUMP…
To many of us, coming out as gay in 2013 seems so easy. We have won the freedom to marry in twelve states. We argued two groundbreaking gay rights cases in front of the Supreme Court and are likely to see two victories in June. We have the support of the President of the United States, almost all Democrats, and even a small (but growing) minority of Republicans. We have gays portrayed on network television, countless out gay actors, and committed support from straight allies. We also have an openly gay professional NBA player, not to mention several openly gay athletes in other sports and countless straight professional athlete allies.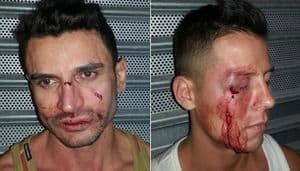 And yet, according to the Los Angeles Times, even as hate crimes reported to federal authorities have gone down, those motivated by anti-gay bias have gone up. Of course, those figures only include reported hate crime allegations and incidents. There are untold incidents of harassment, attacks, and abuse throughout this country, from as close as Chelsea to as far as the outskirts of Spokane, Washington.
I am not suggesting that those of us who identify as LGBT are victims. We have long ago tossed aside that frock of weakness. But we cannot deny that our success is half a loaf when we can marry, but can't walk down the street. Or, when we can sit by our ailing partner's bedside, but be torn away from him or her by a judge.
Several theories can account for the recent increase in anti-gay violence:
Backlash. We have accomplished much in such a short time that the forces who oppose equality must reeling from loss after loss. The sense that the traditional world order is collapsing in the face of a more equal future can cause a backlash against equality when certain other factors are present. We know this from experience (see the right to choose, defendants' rights, civil rights, and so on) and from social scientific studies. Some argue that we are seeing this now when it comes to the LGBT community.
Rhetoric and Discrimination. The brilliant Mark Hatzenbueler, an assistant professor at Columbia's Mailman School of Public Health, has shown that anti-gay laws and awareness of continued official discrimination contribute to depression and other negative outcomes among LGBT children and adolescents. I am not aware of any study assessing whether those same factors embolden potential aggressors to lash out, either at peers in school (anti-gay bullying) or at gay men and women on the street, but a brief review of several psychological studies on hate crime aggressors suggests it is very likely.
But are we really seeing an increase in anti-gay aggression? I challenge the assumption. The reported incidents may have gone up, but that is insufficient proof of a general increase when so many events go unreported. We shouldn't be looking for reasons anti-gay hate and violence have gone up. We should be looking for ways to address the rampant anti-gay hate and violence that has been plaguing our most vulnerable friends for some time. Organizations supporting marginalized groups within our community — those who are HIV-positive and those who are gay and members of certain racial and ethnic minorities — deal with harassment, hate, and aggression every day, in a way that many of us living in the tonier neighborhoods of Manhattan and Brooklyn would like to ignore.
To situate this rally to stop the violence and remember Mark as a reaction to an increase in anti-gay hate ignores what has been happening in our backyard. So, please, join us tonight if you're in New York City. Just remember what we're fighting for.
***
Ari Ezra Waldman is the Associate Director of the Institute for Information Law and Policy and a professor at New York Law School and is concurrently getting his PhD at Columbia University in New York City. He is a 2002 graduate of Harvard College and a 2005 graduate of Harvard Law School. Ari writes weekly posts on law and various LGBT issues.