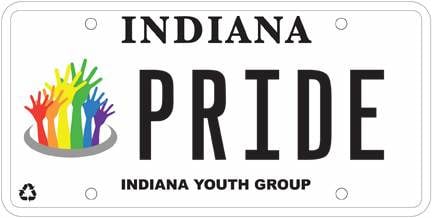 The Indiana Youth Group, an LGBT support group, was shocked this week when Indiana's bureau of Motor Vehicles abruptly ended negotiations over reinstating a specialty license plate that it, The Indiana Greenways Foundation and the Indiana 4-H Foundation had lost last year, the Indy Star reports:
…the Indiana Bureau of Motor Vehicles ended its negotiations with the three groups, citing passage of a new state law that creates a legislative commission to recommend specialty plates.
The BMV issued a brief statement saying that it had "been in various levels of conversations with the groups about ending the suspensions. With the passage of the new law … the legislature has stated its intent regarding the specialty group plates."
The abrupt decision by the BMV has left the three groups frustrated and baffled.
The groups, the BMV said, now have the choice of going back through the appeals process, or taking their chances with the still-to-be-created legislative panel that will make recommendations for specialty plates to the BMV.
Conservative lawmakers were behind the revocation of the plate last spring. Indiana LGBT groups remain "very suspicious".