A new music video by gay Quebecois director Xavier Dolan for the popular French rock band Indochine features the crucifixion and graphic shooting of a bullied student at a Catholic school. In the clip, a bullied teenage boy is taunted in the hallways of the school before being pursued, thrown down stairs, kicked and pissed on, then nailed to a cross and shot several times by his classmates while others shoot the scene on their mobile phones.
It is being censored in Canada and France.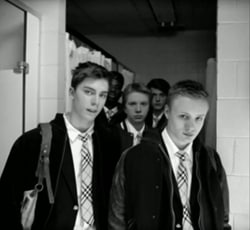 The video has been banned during daytime viewing hours in France, The Local reports:
Dolan reacted angrily to the prospect of the video being banned during daytime hours on music channels in France.
"That really bothers me. On these kind of channels you see situations that are racist, violent and degrading – particularly to women."So it seems absurd to me that this video should be censored," he added.
While French regulators may be shocked by the video, Dolan and Indochine have received significant support from French users of social networks.
Radio and TV host Emilie Mazoyer summed up the view of many Twitter users, saying:"Some people find Indochine's music video 'violent.' Yes, it does turn your stomach for six minutes. But bullied students go through that 300 days a year. Imagine that."
Canada's MusiquePlus will not play the clip.
Watch (warning: graphic), AFTER THE JUMP…