Jake Gyllenhaal and Chris Pine are in negotiations to join Johnny Depp and Meryl Streep in the big screen adaptation of the Broadway musical Into the Woods, according to the Hollywood Reporter: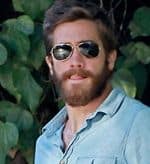 Deal-making hasn't quite begun but the two actors met and even sang for director Rob Marshall for their respective parts and are expected to receive offers to join the star-studded cast. If deals close, Gyllenhaal and Pine would play their first on-screen singing roles.
Streep will play the plum role of the vain and charismatic Witch while Depp will play a hungry and sexy variation of a fairy tale wolf. Sources say that Gyllenhaal and Pine would play the musical's two princes, Cinderella's Prince and Rapunzel's Prince, brothers who are pompous and self-absorbed.