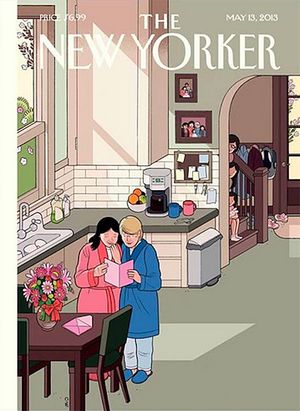 PHOTO OF THE DAY: The New Yorker celebrates gay moms for Mother's Day.  
BY SAM GREISMAN
A look back at today's top stories
GAY ISSUES
Fantastic news in Delaware where the state senate has approved a same-sex marriage bill, making it the 11th state in the nation (+ D.C.) to legalize gay marriage. Buzzfeed sat down with Senator Rob Portman yesterday and spent a great deal of time discussing marriage equality and other gay rights issues. Tennis great Martina Navratilova appeared on MSNBC over the weekend and discussed how Jason Collins' coming out will impact LGBT youth. And the captain of the Texas A&M swim team (and a member of the Tongan Olympic Team) has announced that he is gay and says that his school is not homophobic. 
**
WINGNUTTERY
Former Westboro Baptist Church member Libby Phelps Alvarez appeared on Anderson Cooper's daytime show today and gave a tearful apology to the mother of a soldier whose funeral was picketed by the WBC. New York Police have released a photo of the suspect in that shocking anti-gay attack outside of Sunday's Knicks game at Madison Square Garden. Look out for this creep if you are gonna be at Game 2 tonight. 
Jon Stewart takes a look at the looney bin that is otherwise known as the NRA convention. Also the story of how a neighbor rescued three Cleveland women who had missing for 10 years is just beyond belief. 
**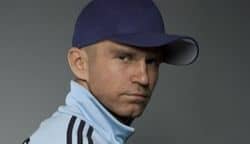 ENTERTAINMENT
Rest in peace to pioneering DJ and producer Peter Rauhofer who tragically lost his battle with a brain tumor today. He was just 48. 
**
VIDEO OF THE DAY
Interviews with an Underwear Model continue, this time with scruffy Derek Allen Watson. And a few drag racers celebrate fugly faces with their version of Robyn's "Dancing On My Own".