As Senators Chuck Schumer (D-NY) and Senator Dianne Feinstein (D-CA) appear ready to throw gay-inclusive legislation under the bus, advocates are reacting furiously.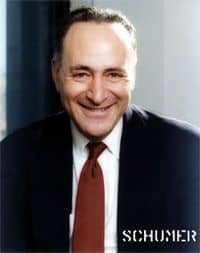 Richard Socarides, writing in the New Yorker, suggests that Schumer's behavior teaches the world that gays are not as deserved of equality as everyone else, and therefore he is sending that signal to those who might harm us:
It may not be fair to connect the historically thorny debate over immigration reform and issues of employment discrimination to the horrific and fatal events of this weekend in Greenwich Village. No one is suggesting that opposition to civil-rights protections for gay Americans is an open endorsement of hatred. But when our national leaders have a debate about whether or not to treat gay Americans the same as everybody else, it sends a powerful message that perhaps gays are not entitled to equality. Why not? Is the argument still that they are not as good as other citizens or that they are engaged in some immoral or otherwise improper behavior—that they shouldn't be walking around openly at night?
The people who commit hate crimes get the idea that their victims are fair targets from somewhere. The movement for gay rights may in fact have some "political power" behind it now, as Justice Roberts also went out of his way to point out, but gay Americans do not have equality, and they still can and are targeted for discrimination and violence every day, even on the streets of Greenwich Village.
And Lavi Soloway unleashes at The DOMA PROJECT:
Despite hearing from tends of thousands of constituents in recent weeks, Senator Chuck Schumer (D-New York) and Senator Dianne Feinstein (D-California) have not budged. They will refuse to vote for either amendment, and as a result, Chairman Senator Patrick Leahy, will likely not call either of his LGBT amendments (the one based on the Uniting American Families Act, which I helped write 14 years ago, or his historic and unexpected Marriage Equality "DOMA Carve Out" exception) for a vote knowing that the amendment will fail to garner the necessary 10 out of 10 Democratic votes to pass out of Committee.
The betrayal of our community by Senator Schumer who voted for DOMA as a member of the House and fought for gay votes when he ran for Senate despite HRC's controversial endorsement of his incumbent opponent, Republican Alphonse D'Amato, is appalling to put it mildly. After all his promises to fight for LGBT inclusion, he has signaled day after day that he won't upset the bipartisan Gang of Eight applecart. Dianne Feinstein, who, 35 years ago, became Mayor of San Francisco after the assassination of Mayor Moscone and Harvey Milk, has once again failed to provide leadership when the going got tough. Her leadership on the repeal of DOMA (Respect for Marriage Act) notwithstanding, this was the moment that counted. This was the moment that required courage and leadership. The most vulnerable members of our community relied on Senator Schumer and Senator Feinstein to stand up for us and end decades of catastrophic and irreparable harm to our families caused by DOMA and our exclusion from US immigration law.
Today, it seems clear, they will betray us.