Minnesota's House Ways and Means Committee has advanced a marriage equality bill on a voice vote, Pioneer Press reports: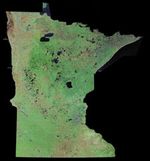 New estimates show it would cost the state about $688,000 annually to provide health insurance benefits to same-sex spouses of state employees but would be partially offset by about $10,000 collected from marriage license fees in 2015, according to a Minnesota Management & Budget analysis.
House Speaker Paul Thissen, DFL-Minneapolis, has said he wouldn't schedule a floor vote on the gay marriage bill until he knows it would pass.
Senate Majority Leader Tom Bakk, DFL-Cook, has said he thinks the Senate has the votes to pass it. And DFL Gov. Mark Dayton has said he would sign a gay- marriage bill if it reaches his desk.