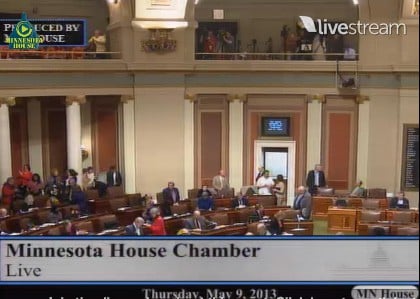 UPDATE: The House has approved the bill in a 75-59 vote!
The Minnesota House of Representatives is set to vote on marriage equality starting at 12 pm (1 pm ET) today. If the bill is passed by the House, the Senate could get it as early as this weekend.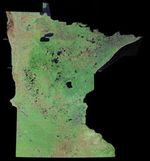 Watch it LIVE here (opens in new window), AFTER THE JUMP…
Security has been heightened at the Capitol:
State lawmakers have been advised that 30 to 40 additional uniformed officers will be on hand to maintain a safe environment during debate Thursday. Thousands of people are expected to be on the Capitol grounds while the House weighs the gay marriage bill. Signs posted at entrances warn that the building will be closed to new visitors upon hitting capacity. A state security official says that will be determined on the size and tenor of the crowd.
Read our latest updates on the bill HERE and HERE.
Watch it LIVE here (opens in new window), AFTER THE JUMP…
And feel free to discuss in the comments. Make sure not to miss a Towleroad headline by following @TLRD on Twitter. And thank you for sharing and retweeting our content.
If the video isn't working you can try watching LIVE here. And the Star Tribune will be running a livestream as well.