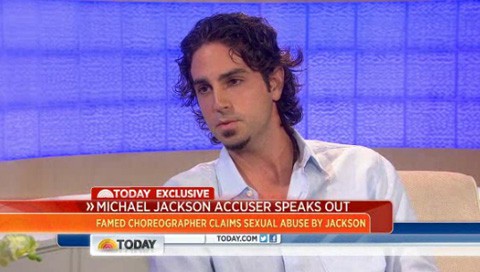 Choreographer Wade Robson on the Today show this morning:
Back in 2005, Wade Robson was the first defense witness at Michael Jackson's trial, where the singer was accused of molesting a 13-year-old cancer survivor. At the time, Robson was unequivocal: He was not sexually abused by the man known as the King of Pop. But he has changed his tune.
On TODAY Thursday, the 30-year-old choreographer told Matt Lauer that Jackson, who died in 2009, was "a pedophile and a child sexual abuser."
From ages 7 to around 14, Robson said, he was abused by Jackson, who he said "performed sexual acts on me and forced me to perform sexual acts on him."
Robson is currently asking a probate court to allow him to file a late creditor's claim against the Jackson estate, now that the deadline has passed for creditors to file such claims…
…Howard Weitzman, a lawyer for Jackson's estate, said in a statement: "Mr. Robson's claim is outrageous and pathetic. This is a young man who has testified at least twice under oath over the past 20 years and said in numerous interviews that Michael Jackson never did anything inappropriate to him or with him. Now, nearly four years after Michael has passed, this sad and less-than-credible claim has been made."
Watch, AFTER THE JUMP…
Visit NBCNews.com for breaking news, world news, and news about the economy