NFL punter and LGBT ally Chris Kluwe has been signed by the Oakland Raiders, FOX Sports reports: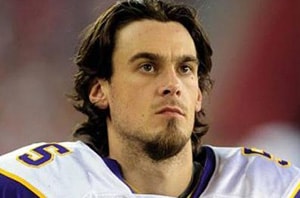 Kluwe, who was released by the Minnesota Vikings on May 6, will step in for Pro Bowler Shane Lechler, who left Oakland for the Houston Texans via free agency. Kluwe's contract is for one year, and is for the league minimum.
…
Kluwe is known for his mind and mouth, as well as his leg. He is a vocal advocate of equality in sports (and life), and says he will continue to speak for what he believes.
"I'm still going to be myself socially and continue to tweet and interact with my fans," Kluwe said.
The issue of same-sex marriage remains a hot-button one in California. Kluwe said he was happy the same-sex marriage bill passed and was signed into law Tuesday by Gov. Mark Dayton in Minnesota. Kluwe didn't think it would be an issue there and is ready to press forward in the Golden State….Prop 8 was passed by voters in 2008 and governs that the state only recognize marriages between a man and a woman. The law's legality was argued before the US Supreme Court in March, with a ruling expected in June, and Kluwe is optimistic about the likely repeal of the measure. If the measure is not repealed, however, he says it will be an issue of concern that will need to be addressed.