BY NAVEEN KUMAR
Nominees for the 67th annual Tony Awards were
announced Tuesday morning in a line-up that is sure to leave plenty of open
first-class seats between LAX and JFK come June. Many of the biggest Hollywood names
on stage during the 2012-13 season were overlooked in favor of stage veterans
and up-and-comers alike.
Kinky Boots and Matilda led the pack with 13 and 12
nominations each respectively, including Best Musical. Of the four nominated
productions in this category, only these two are currently open and doing big
box office—making this a clear two horse race. Tony voters tend to vote what
they can see, and a sizable number of voters represent the interests of
regional touring houses looking for the show most likely to do big box office
on National Tour. Of the two other nominees, Bring It On has already been on the road, and A Christmas Story is strictly seasonal.
Jekyll & Hyde was the only eligible production that didn't make the list for Best
Musical Revival—no surprise given the rancor with which the show was greeted by
critics (sorry, Constantine). Nominees in this category included Pippin,
The Mystery of Edwin Drood, and Rodgers + Hammerstein's Cinderella, for which Douglas Carter Beane was also nominated for Best Book of a
Musical for his new adaptation.
But the real
battles went down in the play categories, where Tony voters passed over many of
the stars who hit the stage this season with varying degrees of critical and
box office success. Bette Midler and Fiona Shaw were overlooked in the Best
Leading Actress category, both highly acclaimed performers starring in solo
shows that couldn't be more opposite. Bette's star-vehicle I'll Eat You
Last: A Chat with Sue Mengers, by Tony winner John Logan was also shut out,
while Fiona's one-woman play The Testament of Mary by Colm Tóibín received a nom
for Best Play and little else.
Incidentally, three
big name stars that did make the list landed in the Best Leading Actor category
for their performances in new plays—Tom Hanks (Lucky Guy), Nathan Lane (The
Nance), and David Hyde Pierce (Vanya and Sonia and Masha and Spike).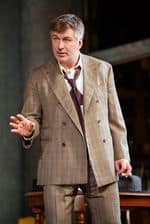 Of the plays nominated
for Best Revival, only Orphans features Hollywood names including Alec
Baldwin and Ben Foster, who were both passed over in performance categories,
though their co-star Tom Sturridge received a Best Actor nomination.
Other star-studded
revivals were conspicuously overlooked in both production and performance
categories including Glengarry Glen Ross (Al Pacino), The Heiress
(Jessica Chastain, David Strathairn, Dan Stevens), Macbeth (Alan
Cumming), and Cat on a Hot Tin Roof (Scarlett Johansson).
Johansson, who won
a Tony for her Broadway debut in A View from the Bridge in 2010, was
critically praised for her return performance, though Cat received mixed
reviews and eventually went limp at the box office. Pacino on the other hand,
brought in big box office grosses (nobody seemed to care much what critics
thought), but voters were likewise left unswayed.
Of all those
overlooked, perhaps the most egregious (and surprising) was Jessica Hecht in
Richard Greenberg's The Assembled Parties. In addition to vying in a
tight race for Best Play, Greenberg's drama also saw Judith Light nominated for
Best Featured Actress, the same category in which she won a Tony last year for Other
Desert Cities. In a season that focused awards attention on experienced and
respected stage players, of which Hecht is a shining example, hers was an unexpected
omission that defied an otherwise clear pattern. 
Recent theatre features…
'Pippin' Revival Opens On Broadway: REVIEW
Bette Midler Opens On Broadway In 'I'll Eat You Last:' REVIEW
'Orphans,' Starring Alec Baldwin Opens On Broadway: REVIEW
Richard Greenberg's 'The Assembled Parties' Opens on Broadway: REVIEW
Playwright Douglas Carter Beane is Back On Broadway With 'The Nance:' INTERVIEW

Follow Naveen Kumar on Twitter: @Mr_NaveenKumar (photos: )