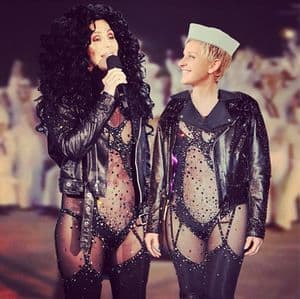 PHOTO OF THE DAY: That day that Cher and Ellen were twinsies! 
BY SAM GREISMAN
A look back at today's top stories
WINGNUTTERY
NOM leader and all-around nut Brian Brown continues to bury his head in the sand and pretend that he is not fighting a losing battle. One Million Moms really need to find a hobby or something to fill their day other than getting upset about really stupid things. The latest call to action comes as a result of a commercial that implies that a man is shaving his body hair. What is this world coming to?! And YouTube sensation Antoine Dodson has given up on being gay and is looking for a wife.

**
ENTERTAINMENT
In a behind the scenes look at Ryan Gosling's new film, Only God Forgives, we get treated to some sexual discussion between him and his director and a lot of bare Gosling bicep. Also a graphic music video from a gay Canadian director that depicts a bullied student being crucified is causing quite the stir in Canada and France. 
**
VIDEOS OF THE DAY
Jason Collins' twin brother Jarron sat down with ESPN's Outside the Lines today and discussed not only his brother's coming out but also how anti-gay players should behave toward him. And the video of Reese Witherspoon's recent bizarre drunken arrest in Atlanta has been released and you're right Reese, it is totally "beyond".