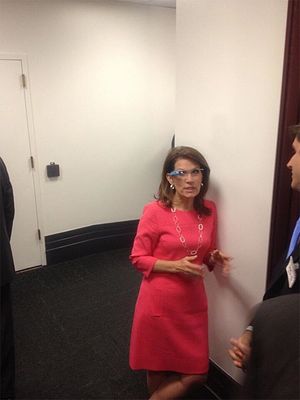 PHOTO OF THE DAY: Michele Bachmann models Google Glass.  
BY SAM GREISMAN
A look back at today's top stories
WINGNUTTERY
The loser in a recent Dallas City Council election has proven that the electorate definitely made the right choice after he left an insane, profanity-laced and homophobic voicemail for a local reporter who didn't mention that sexuality of his opponent. Another promising political career down the tubes. For the second time this year a lesbian couple has been denied a wedding cake by a bakery in Oregon. And John Boehner wants to know who is going to jail over the recent IRS scandal. 
**
ENTERTAINMENT
At least one member of the boyband The Wanted says that he would be open to getting it on with a guy. Just one? The movie adaptation of Stephen Sondheim's Into the Woods continues to come together with Jake Gyllenhaal and Chris Pine being the most recent actors who are reportedly in talks.
There is a new HBO show to get excited about; this time from the director of the gay-themed British indie "Weekend". Speaking of HBO, Steven Soderbergh says that some people may have a tough time seeing Damon and Douglas having sex in his new Liberace biopic for the cable network. Also Isabella Rossellini continues to show off her nutty side with the latest installment of her "Green Porno". 
**
GAY NEWS
New polls in both Michigan and Virginia show a major uptick in support for marriage equality with over half of voters identifying as pro-equality in both states. And Lawrence O'Donnell sat down with Minnesota Governor Mark Dayton to discuss his state's passage of marriage equality.

**
VIDEO OF THE DAY
A waitress at a diner in France recently made a very public announcement about her sexuality. We support her announcement, even if the way she went about it seems a little odd.