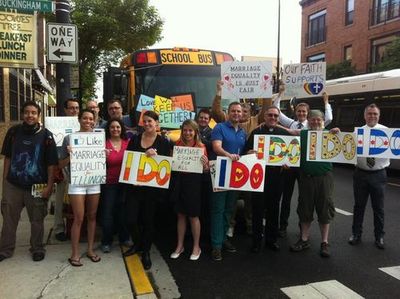 PHOTO OF THE DAY: Gay marriage supporters make their way to the Illinois State Capitol. 
BY SAM GREISMAN
A look back at today's top stories
GAY ISSUES
We will be waiting on Illinois for some time longer, as the House failed to take a vote on a much-anticipated marriage equality bill. Watch Rep. Greg Harris break the painful news here.
With Pride Month beginning tomorrow, President Obama has released a proclamation that notes the strides that the LGBT community has made of late and the importance his administration is placing on gay and trans rights. That doesn't mean gays won't be poor though. 
**
ENTERTAINMENT
At least one member of The Wanted (the b-level One Direction) is sure that one of the Directioners is gay and the answer probably won't surprise you. Jane Lynch and Jordan Peele play out the end of the very toxic relationship that exists between Church and State. And Oprah takes a look at the dramatic uptick in public support for gay marriage. 
**
VIDEOS OF THE DAY
An 8th grader from the New York area won this year's National Spelling Bee by spelling a word that he will certainly never use again. A woman on last night's Wheel of Fortune won a million dollar prize for just the second time in the show's history and, do your super fly dance moves help you get into people's pants?