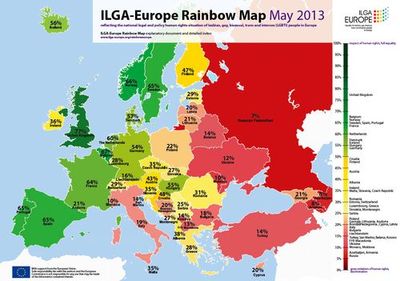 PHOTO OF THE DAY: The state of LGBT rights throughout Europe.  
BY SAM GREISMAN
A look back at today's top stories
WINGNUTTERY
Lots and lots of crazies making news on this Friday. It's graduation season and it seems that it will not be a happy time for a male transgender student in New Mexico whose Catholic school is forcing him to wear a girl's gown on the big day. The saga of the Washington florist who denied a gay couple flowers for their wedding continues to drag on as the florist is now suing the state for "religious discrimination". A judge in Texas is using something called a "morality clause" to try and separate a lesbian couple. 
There was horrific violence at a gay pride parade in Tblisi, Georgia where revellers were attacked by thousands of anti-gay demonstrators. There will be one more wingnut at Fox News as homophobic former Congressman Allen West has joined the cable news network. A veteran UFC fighter has been suspended for calling a fellow fighter a "faggot" on Twitter and if you thought the mayor of your town was bad; at least he isn't smoking crack. 
**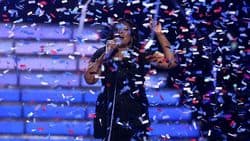 ENTERTAINMENT
Singer George Michael was apparently involved in a car accident in the UK yesterday and had to be airlifted to a hospital. Luckily his injuries are reported to be "superficial". Last night was the big American Idol season finale and eventual champion Candice Glover and Jennifer Hudson performed a stirring duet. Adam Lambert, Jessie J and Angie Miller were also on hand to perform a version of "Titanium" and "Domino". 
At the Eurovision Song Contest, a pro-gay marriage themed song that originated in Finland continues to roll through the competition. And RuPaul and Lady Bunny give us a whole bunch of stuff we might want to "lick". 
**
GAY NEWS
There was a shake-up today at GLAAD where the organization's President announced that he will be stepping down. Also according to a recent survey, a majority of the LGBT community in Europe is living in fear. 
**
VIDEO OF THE DAY
Get up-close and personal with a grizzly bear.