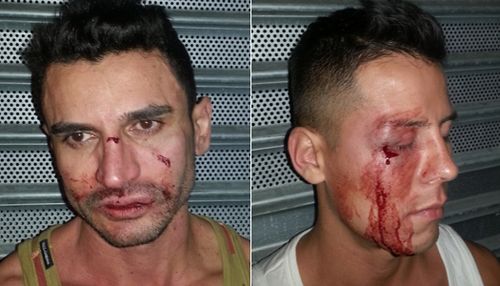 ABC7 reports that two men have been arrested in connection with an attack on a gay couple near the 33rd street PATH station in Manhattan. The victims sustained facial injuries and one had to undergo eye surgery:
Police say early the two victims were denied access to an after-hours billiards club. They were then approached by a group of men who allegedly shouted gay slurs and beat the men, according to police. The alleged attack continued after the victims tried to escape and ended up across the street near the 33rd street PATH station.
Two suspects were arrested as others got away on foot. The suspects were identified as Asllan Berisha, 21, and Brian Ramirez, 21, both of New York City.
Watch ABC7's video report on the attack, which shows the attackers, AFTER THE JUMP…
Law enforcement is working to figure out if there is a link between today's attack and one that occurred on Sunday during a Knicks game. Yesterday, police released video of eight people wanted in questioning in that attack.
The NY Post adds:
Asllan Berisha, of West 95th Street, and Brian Ramirez, of Third Avenue, both 21 and of Manhattan, are charged with gang assault and assault as a hate crime and are awaiting arraignment in Manhttan Criminal Court.