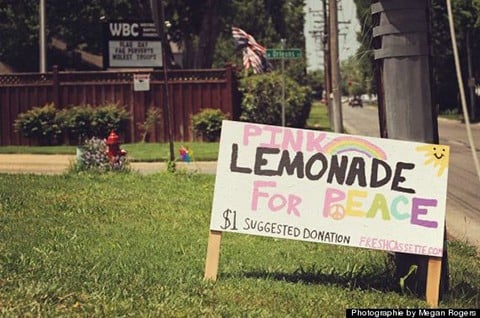 A five-year-old girl named Jayden Sink has set up a pink lemonade stand at Equality House, across the street from the Westboro Baptist Church, to promote love and peace and defy Westboro's message of hate. The people of Topeka, Kansas have come out to support her, according to the Huffington Post: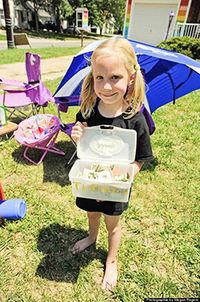 "Jayden, who is from Kansas City, decided to set up her stand at the
Equality House after her parents explained to her the significance of
its construct. After being told that the church across the street had a
message of hate, she set a goal of raising money to go towards a message
of love and peace. 
So she painted a banner for the event reading, 'Pink Lemonade for
Peace: $1 Suggested Donation.' She put the stand in the grass and
waited. But the waiting didn't take long. Supporters came in by the
droves and $1 turned into hundreds of dollars.
During the day, Westboro sent representatives outside to try and find
a way to stop the event. They apparently attempted to call the local
police and stooped to yelling profanities when that didn't work, like
calling a group of soldiers who rode out on their motorcycles to suport
the event 'bastards.'"
As you may recall, Aaron Jackson of Planting Peace bought Equality House
and painted it the colors of the pride flag in March. The Westboro
Baptist Church has previously expressed their elation at having what
they call the  '"Sodomite Rainbow House" across the street from their HQ. Most recently, Westboro has attributed the tragic spate of tornados in Oklahoma to support for out NBA player Jason Collins.
In her first day Jayden raised $400 at her lemonade stand. She has also raised $5,547 online via Crowd Rise. You can contribute to her campaign here.
(images megan rogers)