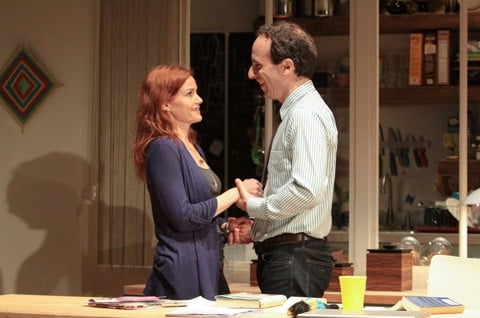 BY NAVEEN KUMAR
Playwright Daniel Pearle's new play about a young couple
whose 4-year-old son Jake enjoys playing princess at playtime opened Off
Broadway last week in a Lincoln Center Theatre production at the Claire Tow theatre.
As an ex-lawyer turned stay at home Mom and a practicing therapist,
Alex (Carla Gugino) and Greg's (Peter Grosz) approach to parenting is perhaps
more than commonly heady and self-analytical. While they're relatively
supportive of Jake's 'gender variant play' (as his pre-school counselor deems
it), their true feelings are put to the test as they navigate the application
process for Jake to attend Manhattan private school.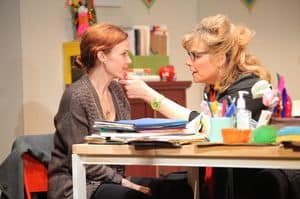 Jake's pre-school counselor and friend of the family Judy
(Caroline Aaron) suggests Alex call attention to her son's unique behavior in
their applications, as something that may be attractive to progressive schools
with an eye for diverse student bodies. As Jake's behavior evolves over the
course of the play, the question of which sort of body he actually wants to
live in becomes more pressing.
Jake's favorite fairytale, Cinderella, is rich with
associations relevant to Pearle's drama. Grimm's story touches on both the
power of transformation in outward appearance, and the pain of forcing the body
into artificial constraints, like a shoe that doesn't fit. (In a somewhat on
the nose moment of child psychologizing, Judy and Greg examine Jake's drawing of
the bloody scene in which Cinderella's stepmother mutilates her daughter's foot
to fit the glass slipper.)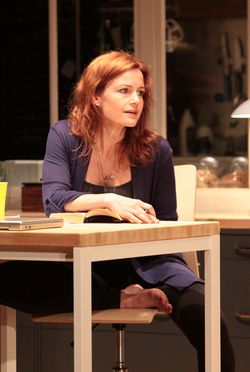 Pearle's play offers much food for thought in examining the
indoctrination of binary gender norms during childhood development. Alex and
Greg's acceptance of Jake's choices in gender expression at home is only one aspect
of the story. When it comes to introducing his behavior to friends and
neighbors or setting it to paper in application essays, Alex in particular
struggles with how unconventional labels might affect him, as well as her own
somewhat veiled hope that it's just a phase.
Jake remains unseen throughout, in line with how much of
child behavior is recounted in stories—from teachers to parents, from one
parent to another—rather than directly witnessed. Though consequently the play,
set across various interiors including the couple's apartment, Judy's office,
and a doctor's waiting room, has more he-said she-said dialogue than compelling
stage action.
Director Evan Cabnet elicits fine performances from the
small company, particularly Ms. Gugino (Desire
Under the Elms, After the Fall) as frayed and determined Alex.
Though the fraught private school application process drives
the play's momentum, Pearle's examination of responses to gender variant
behavior is certainly the heart of his drama—since the former is only of genuine
interest to a very elite few.
Recent theatre features…
 2013 Tony Awards Round-Up: Drag Queens, Pioneer Women, and Mike Tyson
'Far From Heaven' Opens Off Broadway: REVIEW
Place Your Bets: 2013 Tony Awards Predictions
A Closer Look at the Chosen and the Snubbed in This Year's Tony Award Nominations
'Pippin' Revival Opens On Broadway: REVIEW

Follow Naveen Kumar on Twitter: @Mr_NaveenKumar (photos:erin baiano)