The American Medical Association voted on Tuesday to oppose the FDA ban on gay men donating blood, ABC News reports: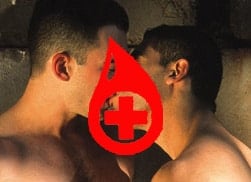 "The lifetime ban on blood donation for men who have sex with men is discriminatory and not based on sound science," AMA board member Dr. William Kobler said in a statement. "This new policy urges a federal policy change to ensure blood donation bans or deferrals are applied to donors according to their individual level of risk and are not based on sexual orientation alone."
The AMA recommends that the FDA change its policy so that gay men are evaluated on an individual level rather than being lumped together in a high-risk category, in addition to crafting a policy that more accurately represents scientific research.
Said Robert Valadez, policy analyst for the HIV/AIDS advocacy group Gay Men's Health Crisis: "The policy was formed at a time in our history when we didn't have a name for AIDS or HIV. Our technology has advanced to the point where … it is antiquated to keep this policy in place and to keep those units of blood from entering the blood supply."