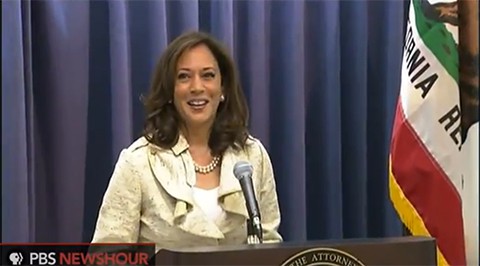 California Attorney General Kamala Harris, as earlier expected, spoke out today about the Supreme Court's overturning of Prop. 8 and the implications of the ruling for California.    
Though orders from the high court traditionally take 25 days to be officialliy implemented, "Harris urged the federal appeals court 'in the strongest terms' to act before the 25 days pass 'so that marriages can begin in California immediately,'" the LA Times reports.
However, according to David J. Madden, an appeals court official, the 9th circuit court has yet to receive, "any legal paperwork from Harris asking them to expedite the process."
At issue is the stay imposed by the 9th Circuit court of appeals on U.S. District Judge Vaugh R. Walker's 2010 ruling that declared Proposition 8 unconstitutional. However, Harris promised,
"As soon as [the 9th Circuit] lifts that stay, marriages are on. The wedding bells will ring…Today is a day that reaffirms our commitment as a country to giving every person equal protection and due process under the law."
Check out a video via PBS News Hour of Harris "feeling pretty good" and sharing the state's plans for bringing marriage equality back into the fold AFTER THE JUMP…