Bachmann and Pelosi, both political dynamos from very different camps, will be tangling far less now that Bachmann has decided not to run for reelection. However, their congressional relationship had to go out with a bang, and some sense of humor.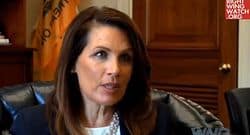 True to form, Michele Bachmann lacked all regard for separation of church and state today as she blasted the Supreme Court for their DOMA and Prop 8 rulings and invoked a Christian belief in heterosexually limited marriage.  
"Marriage was created by the hand of God. No man, not even a Supreme Court, can undo what a holy God has instituted," Bachmann, who isn't seeking another term in Congress and narrowly won reelection last year, wrote.
"For thousands of years of recorded human history, no society has defended the legal standard of marriage as anything other than between man and woman. Only since 2000 have we seen a redefinition of this foundational unit of society in various nations," she continued. "Today, the U.S. Supreme Court decided to join the trend, despite the clear will of the people's representatives through DOMA."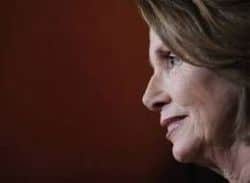 "What the Court has done will undermine the best interest of children and the best interests of the United States," she concluded.
When questioned about Bachmann's comments later, Nancy Pelosi responded with a shrug of her shoulders and a barely audible whisper: "Who cares?" Then, a smile crept across her face. It seems the House Minority Leader may have as little regard for Bachmann's comments as the former Presidential candidate does for the Constitution. 
Watch the short and amusing video, AFTER THE JUMP…