GOP Congressman Louie Gohmert (R-TX) thinks gays should hide their orientation at work, which shouldn't come as a surprise to those familiar with Gohmert's extremist and nutty positions.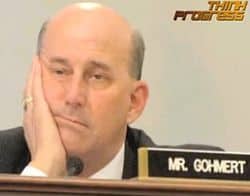 Think Progress caught up with the Congressman at a Tea Party rally in front of the Capitol on Wednesday:
THINKPROGRESS: Where do you stand on the Employment Non-Discrimination Act?
GOHMERT: I'm not aware of exactly which one you're talking about
THINKPROGRESS: It would protect LGBT workers from being fired due to their sexual orientation.
GOHMERT: Who wants to go talking about sexual orientation when they're working? Good grief.
As we reported yesterday, West Virginia Senator Jay Rockefeller became the 52nd sponsor of ENDA:
In just the last week, three other Democratic Senators–Heidi Heitkamp of North Dakota, Tom Carper of Delaware and Majority Leader Harry Reid of Nevada–have come out in favor of the bill. Reid's official support is seen as an important boost for the bill, since the majority leader rarely co-sponsors bills himself. Earlier this week, even Gabriel Gomez, the Republican candidate for the open U.S. Senate seat in Massachusetts, announced his support of ENDA.
Only four Democratic Senators remain who have not endorsed ENDA: Joe Manchin of West Virginia, Bill Nelson of Florida, Mark Pryor of Arkansas and Tim Johnson of South Dakota. Sens. Nelson and Johnson support marriage equality; Sens. Manchin and Pryor do not.