Out NY Assembloywoman Deborah Glick and out NY state Senator Brad Hoylman have released a joint statement blasting mayorla candidate Anthony Weiner for his response to a voter who referred to Christine Quinn as a "dyke".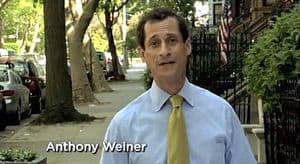 Weiner's conversation with the voter, according to the Washington Post:
The Twitter story isn't going away; the Times inadvertently posted an article titled "For Women in Weiner Scandal, Indignity Lingers" before it was ready for publication, which was immediately taken down. And there are increasingly critical examinations of his scant legislative record. Yet no one in the race has the political capacity to relate to people like Weiner, who makes it a point to relate to everyone.
"You a registered Democrat?" he asked an elderly woman wheeling a shopping cart by him.
"I am," she said. "And I'm not voting for uh, what's her name? The dyke."
"Okay. I just need you to sign the petition to get me on the ballot," said Weiner, who then noticed the incredulous reaction of a reporter and added, "and you really shouldn't talk that way about people."
"Oh, I'm sorry," the woman said.
"It's okay," Weiner responded. "It's not your fault."
Hoylman and Glick released a statement in response:
"We are appalled by the account in the Washington Post of Anthony Weiner's unacceptable response to a prospective voter's homophobic, misogynistic slur in reference to Christine Quinn. According to the reporter, Weiner at first ignored the slur. Then, after noticing the reporter, Weiner told the voter she 'really shouldn't talk that way about people.'  Finally, after the voter apologized, Weiner said, 'It's okay. It's not your fault.'
 
"Weiner's response to this blatant display of homophobia is completely inappropriate and extremely alarming. There is nothing 'okay' about homophobia and it's never 'okay' to condone bias-based slurs or hate speech of any kind.
 The voter's use of the term demonstrates the challenges women candidates and lesbians in particular face, and Weiner's failure to swiftly and firmly condemn her language demonstrates his lack of moral courage.
 
"We demand an immediate apology from Mr. Weiner on behalf of LGBT and women New Yorkers."