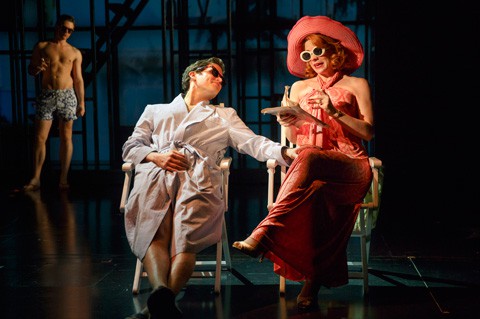 BY NAVEEN KUMAR
Todd Haynes critically-acclaimed and Oscar nominated film Far From Heaven has been adapted into a
sometimes moving though mostly puzzling new musical that opened Off Broadway
Sunday at Playwrights Horizons.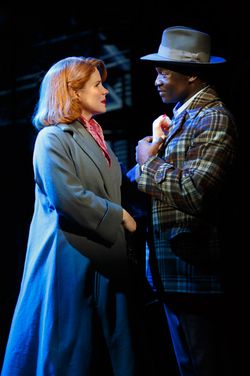 The musical, with music by Scott Frankel, lyrics by Michael
Korie and book by Richard Greenberg, depends first on suspending disbelief
that the buttoned-up folks of 1950's Connecticut turn their preternaturally
repressed feelings into song. In a time and place so characterized by tension between
polished exteriors and locked-up inner life, it can be a hard pill to swallow.
Nonetheless Haynes' film is rich with promising material for
the stage. Cathy Whitaker and her husband Frank (played here by Kelli O'Hara and Steven Pasquale) seem like the perfect Hartford couple. But Cathy's
decorous charm isn't just that, her uncommonly generous character extends to
everyone around her—making her particularly vulnerable to the affects of
misfortune.
Cathy is dealt her first blow when Frank's distant attitude
towards her and their children turns out to be the result of his desire for
other men. After she catches him staying late at the office with an anonymous
paramour, he agrees to see a doctor about getting back on the straight and
narrow.
In the meantime, Cathy finds herself developing a unique bond
with her African-American gardener Raymond Deagan (Isaiah Johnson), whose calm dignity
and open heart are in sync with her own. Of course there's more trouble on the way as others in town catch wind of their friendship.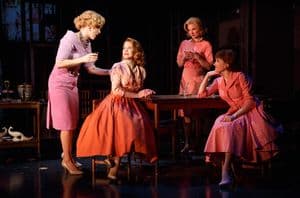 Haynes film infuses this quiet story with opulent
splendor—deep colors, sweeping, picturesque shots and sumptuous interiors—contrasting operatic visuals with the constrained emotional lives of his characters.
Though the film's heightened style is innately theatrical, and Elmer Bernstein's
score plays a big role in creating that style, the dynamics of a stage musical
are something quite different.
Frankel and Korie, the writing team behind Grey Gardens (which also had its start
at Playwrights Horizons), turn much of the screenplay into sung conversation.
Though some numbers reach a certain level of heightened feeling, many are
simply used in place of dialogue. Given the characters' constant struggle to keep emotions below the surface, there are only rare moments when song seems an appropriate
medium of expression.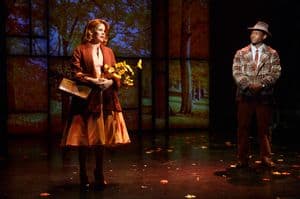 O'Hara's honeyed voice and delicate charm are well suited to
the role of Cathy, and she's master of her element anchoring a period musical.
As her husband wrestling with a forbidden identity, Pasquale lacks the
congenial warmth and depth of feeling that suffused Dennis Quaid's linchpin
performance in Haynes' film. Without a glimpse of Frank and Cathy's former
happiness, the dissolving of their marriage has little impact.
As directed by Michael Greif (also a collaborator on Grey Gardens) action moves fluidly
through designer Allen Moyer's angular, rotating set. Projections by Peter
Nigrini and other supplemental design (mostly in the form of seasonal matter
falling gracefully from above) hint toward the visual interest of the film.
But the tools that make the story work on screen remain mostly out of reach. 
Recent theatre features…
 Place Your Bets: 2013 Tony Awards Predictions
A Closer Look at the Chosen and the Snubbed in This Year's Tony Award Nominations
'Pippin' Revival Opens On Broadway: REVIEW
 Bette Midler Opens On Broadway In 'I'll Eat You Last:' REVIEW
'Orphans,' Starring Alec Baldwin Opens On Broadway: REVIEW
 
Follow Naveen Kumar on Twitter: @Mr_NaveenKumar (photos: joan marcus)