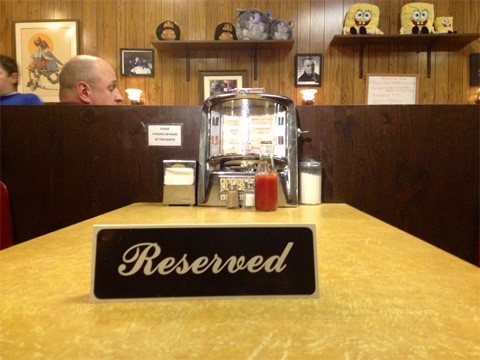 A New Jersey ice cream parlor where actor James Gandolfini, who died suddenly yesterday while traveling in Italy, played his final scene as Tony Soprano (and the final scene of the show), honored him yesterday with a simple gesture at the table where he sat.
Watch that scene, AFTER THE JUMP…
The Hollywood Reporter offers a few details about the actor's death:
Tom Richardson, Gandolfini's assistant, agreed: "The family had a marvelous day together, and when he returned to the hotel Jimmy [Gandolfini] went to the bathroom and that is when something happened," Richardson said, adding the actor was still alive when the ambulance arrived.
The director of the emergency room at Rome's Policlinico Umberto I said the hospital received the emergency call at 9 p.m. local time Wednesday and that the first of two ambulances arrived within 8 minutes. They tried to revive Gandolfini and when they were unable to do so they transported him to the hospital where he was pronounced dead at 10:40 p.m.
Gandolfini was scheduled to receive a special  prize and participate in a round table discussion about Italian-American views on cinema at the Taormina Film Festival in Sicily. He was just 51 years old.
(h/t gawker)