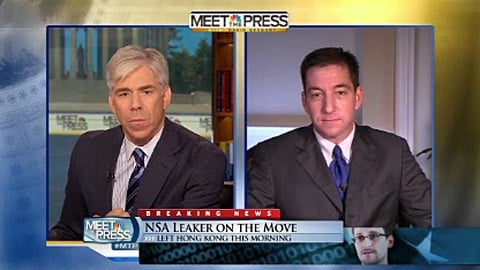 Guardian writer Glenn Greenwald had a terse exchange with David Gregory on Meet the Press today after Gregory suggested that he "aided and abetted" NSA whistleblower Edward Snowden, who arrived in Moscow today after leaving Hong Kong, headed to parts unknown.
Asked Gregory: "Even in his current movements, why shouldn't you, Mr. Greenwald, be charged with a crime?"
Replied Greenwald:
"I think it's pretty extraordinary that anybody who would call themselves a journalist would publicly muse about whether or not other journalists should be charged with felonies. The assumption in your question, David, is completely without evidence — the idea that I've 'aided and abetted' him in any way… If you want to embrace that theory [that journalists are co-conspirators] it means that every investigative journalist in the United States who works with their sources, who receives classified information, is a criminal. It's precisely those theories and precisely that climate that has become so menacing in the United States. It's why the New Yorker's Jane Mayer said investigative reporting has come to a standstill, as a result of the questions you just mentioned."
Watch, AFTER THE JUMP…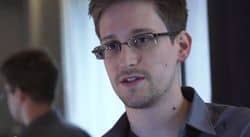 Meanwhile, Snowden has arrived in Moscow:
His flight from US authorities, which want to charge him with espionage, appeared set to continue with an onward flight west from Moscow to Havana on Monday. From there, various reports indicated that he would try to get to either Caracas or Quito.
The Hong Kong government said on Sunday he had left of his own accord "through a lawful and normal channel" and said the request filed by the US did not fully comply with legal requirements. Pointedly, it also said it wanted Washington to clarify Snowden's claims that the US had hacked targets in the territory.
Visit NBCNews.com for breaking news, world news, and news about the economy