Following a reported internal power struggle, the complete details of which have yet to be divulged, Allyson Robinson, the executive director of LGBT military group Outserve-SLDN and the first trangender leader of a national LGBT rights organization, was asked to resign on Saturday. Robinson had been leading the organization for nine months.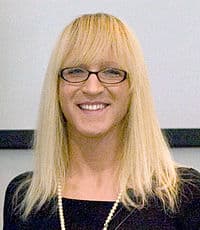 Several senior staffers at the organization – director of external relations Zeke Stokes, Gary Espinas, the director of chapter and member services – have also reportedly resigned, along with at least three board members – Sue Fulton, Matthew Phelps and Beth Schissel. Legal Director David McKean has technically resigned but says he will stay with the organization "until I can determine how to resolve matters related to client representation in accordance with legal ethics rules and requirements."
Buzzfeed reports:
The board co-chair, Josh Seefried, has been accused by the board member who resigned in protest, Sue Fulton, of having "rushed this vote through" on Saturday.
Seefried, however, would not comment, saying only, "We can't talk right now. We have some internal issues to deal with first, then will be updating the community."
Asked about the decision, Robinson would only tell BuzzFeed, "It would be inappropriate for me to comment at this time."
…Saturday's move came at a regularly scheduled board meeting, with no advance notice of the plans to seek Robinson's resignation and only after the board spent several hours in executive session.
UPDATE: Chris Johnson at the Washington Blade sums up the ongoing chaos regarding reports on Robinson's ouster, none of which anyone at the organization has yet clarified.