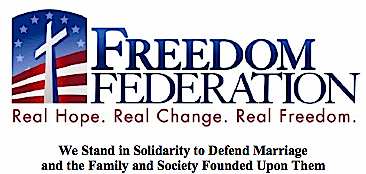 Over two hundred Christian anti-gay activists and organizations have signed a letter threatening to ignore any upcoming Supreme Court ruling favoring gay marriage. The letter, filled with inflammatory rhetoric, has been signed by a "who's who" of anti-gay bigots including Dr. Ben Carson, Tony Perkins, Bill Donohue, Bishop Harry Jackson, James Dobson, and Oklahoma state Rep. Sally Kern. Additionally, Southern Poverty Law Center designated "hate groups" such as American Family Association and Family Research Council have also signed on.
From the letter:
"As Christian citizens united together, we will not stand by while the destruction of the institution of marriage unfolds in this nation we love. The Sacred Scriptures and unbroken teaching of the Church confirm that marriage is between one man and one woman. We stand together in solidarity to defend marriage and the family and society founded upon them. The effort to redefine marriage threatens the proper mediating role of the Church in society."
The letter goes on to say that "redefining marriage" is the "line we must not draw and one we cannot and will not cross." Considering the fact that Tony Perkins and others have predicted that any ruling in favor of gay marriage will lead to civil war or revolution, one has to wonder just how these anti-gay bigots intend to resists such a ruling. 
Read the document, AFTER THE JUMP…
Freedom Foundation's Marriage Solidarity Statement 06-2013