Records show that the IRS targeted Jesse Tyler Ferguson's marriage equality organization Tie the Knot, according to The Hollywood Reporter: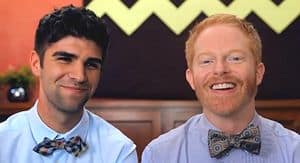 The ongoing scandal over allegations of politically motivated probes by agents in the IRS' Cincinnati office has dogged President Barack Obama's administration in recent weeks, but thus far has been portrayed by Congressional Republicans as a scandal involving only conservative groups, mostly affiliated with the Tea Party. Tuesday's release of documents, however, suggests that the scrutiny extended to other groups claiming a tax exemption as so-called 501(c)(4) social welfare organizations…
…Ferguson and Mikita's group is called Tie the Knot and raises funds to support same-sex marriage by selling designer bow ties over the Internet. It was launched in September 2011, and ultimately received a tax exemption last January, according to the IRS.