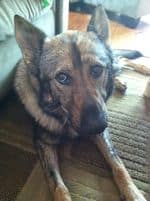 …And to my boys and blue. Never in my career have i ever been so proud. You out did yourselves today. I could not have asked for a better send off. Kaiser truly was part of the department and loved being a police dog. My fellow K-9 handlers, you are a cut above and showed everyone what being a handler is all about…our pups. I thank each of you and you have my respect forever.
Kenny Ballinger and Marc Higgins, thank you for being there for my family and i as we weathered the storm. It was difficult, but i gained strength through you.
Lastly, to all of you who sent your regards over the past few days…I thank you. I read every single post and listened to every message. Kaiser served you well and the streets of Plymouth were safer when he was on patrol. The compassion was overwhelming and i am humbled at the support from perfect strangers.
God Bless you all.