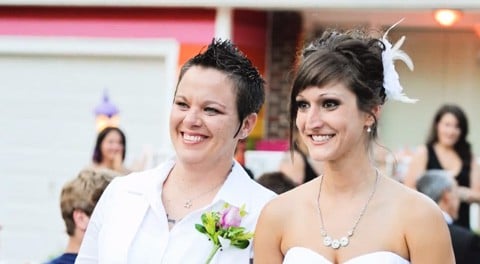 As Julian reported on Thursday, Kimberly Kidwell, a 31-year-old EMT, married Katie Short on Saturday at Equality House, across the street from Topeka's Westboro Baptist Church.
The HuffPost reports:
Members of the church, who have travelled across the U.S. to promote their anti-gay message, didn't even need to leave their headquarters to protest, putting up some signs in their front yard and a banner over the wooden fence outside their property.
The brides hardly noticed. "I guess I was almost numb after seeing them for a minute. I knew the signs would be there, and I wasn't even angry about it. We were just so ecstatic to be getting married," said Kidwell, who wore a white pantsuit for the occasion.
The proximity to the WBC was no coincidence. Kidwell and Short were hitched in the front yard of the rainbow-painted residence owned by Aaron Jackson, one of the founders of the charity Planting Peace, whose intention is to confront Westboro and its history of anti-gay activism.
Watch a stunning video Equality House made of the wedding, AFTER THE JUMP…