Chris Johnson at the Washington Blade does a good job at summarizing the chaos over at Outserve-SLDN, where executive director Allyson Robinson, the first trans leader of a national LGBT organization, was reportedly forced by the board to resign: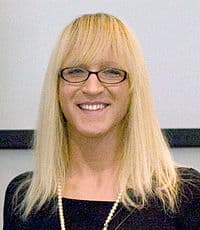 According to anonymous sources in Bilerico and Buzzfeed, reasons given to oust her ranged from a lack of ability to fundraise after "Don't Ask, Don't Tell" repeal in addition to jealousy and anti-transgender bias. No source said anything on the record.
The board statement says OS-SLDN faces "real and significant" financial obstacles and has forced the board to consider "cutting costs and staffing reductions." Still, Robinson late last year received $50,000 from the Arcus Foundation as the first grant under its "New Leadership" program.
OutServe-SLDN faced the prospect of having to restructure following repeal of "Don't Ask, Don't Tell," which was a major goal of its parent organizations: OutServe and Servicemembers Legal Defense Network. Since her start at the organization, Robinson had emphasized partner benefits for gay troops, membership expansion and non-discrimination in the military.
Allyson Robinson posted this statement on the Outserve Magazine:
CONTINUED, AFTER THE JUMP…
This weekend's events were most unfortunate and deeply troubling for many of us, but for my part, as from the beginning of my tenure with this organization, I am fully and firmly committed to our LGBT service members, veterans, and their families and to their fight for equality. For that reason, and to honor those who've shared those values with me, it is my intent to continue to lead OutServe-SLDN in the near term as we approach an historic moment for our community and our country. After that, at a date to be determined, I have decided of my own accord to step down, and will work with our members to ensure an orderly transition to the next phase of this organization's life.
Very few people ever get the opportunity in this life to hear from those whose lives they've touched just how much they are loved and respected. I have no words to express my gratitude for the hundreds who have reached out to me privately or stood up for me publicly over these last 24 hours to show their support: from the military community, the LGBT community, and most especially, most dear to me, the troops of OutServe-SLDN and their families. For that, I am blessed beyond measure.
In light of the momentous events the coming days hold for us all, I intend to put this matter behind us and look forward to shifting the focus back to where it belongs: our LGBT service members, veterans, and families, who sacrifice so much every day, and their ongoing fight for full equality.
The Board's statement reads, in part: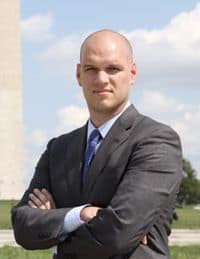 This past Saturday an email containing the contents of confidential internal discussions of the OS-SLDN Board of Directors was erroneously distributed to an email list containing recipients outside of the Board of Directors. The board would like to clarify that the drafted item was only part of a series of discussions aimed at transitioning the organization in what has been a rapidly changing financial and political landscape facing the LGBT movement, which will soon include a Supreme Court decision on the constitutionality of the Defense of Marriage Act. As is the case with many of our partners at this critical time, OS-SLDN is facing real and significant financial obstacles, forcing the Board to look critically at all aspects of its operations and to consider difficult decisions, including cutting costs and staffing reductions.
Board Co-Chair, Josh Seefried (pictured), stated, "There is no excuse for the series of events that transpired this past weekend. On behalf of the Board of Directors, I sincerely apologize for this as well as the impact it's had on our staff's and members' trust and confidence in the organization. Allyson Robinson has led OutServe-SLDN as one of the most transformational leaders of this movement, and there is not a member serving on this board who does not respect and admire her work for this organization and the LGBT movement."
Board member Sue Fulton, who resigned following the weekend's events, released a statement to the Blade:
Kudos to Allyson Robinson for taking the high road in this situation. But I can't make sense of the Board's statement. Are they trying to imply that they did NOT demand Allyson's resignation?? To even suggest that would be an insult to my honor, and an offense to the honor and integrity of others who resigned, especially talented, dedicated, and principled staff members Zeke Stokes, Gary Espinas, and David McKean.
In a larger sense, this statement, appearing after days of silence, is an insult to the members. Several remaining Board members are people I respect; unfortunately their good sense did not win the day. This appears to be a craven, self-serving attempt by the Board leadership to keep their jobs. Given the catastrophic loss of donors who've fled, and members who are fleeing, I am astonished that there is no accountability from the Board leadership. In any self-respecting organization, the Co-Chairs would resign from the Board.