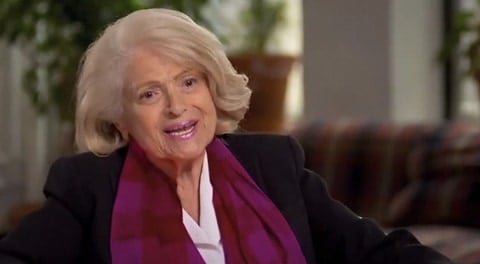 Christine Quinn got the support of Edie Windsor at last night's SCOTUS celebration in front of NYC's historic Stonewall Inn, Politicker reports: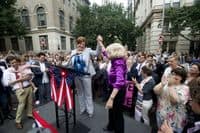 "I wasn't going to announce who I was going to endorse until a decision was made … and it's Christine Quinn!" said Ms. Windsor of the woman who–if elected–would become the city's first female and openly gay mayor.
Ms. Quinn was about to begin her remarks in front of the thousands of people now gathered on Christopher Street to celebrate the ruling, when Ms. Windsor jumped up–as much as an 84-year-old woman can–and grabbed the microphone to make the endorsement.
Today, Edie Windsor appears in a new ad for Quinn's mayoral campaign.
Watch the ad, AFTER THE JUMP…
Also making sure to be seen at the Stonewall rally (complete with traveling campaign sign held aloft by a devoted supporter) was Anthony Weiner, who has vaulted to the frontrunner position according to at least one recent poll.
Writes photographer Josh Koll, who snapped the photo below:
A few rally-goers were so upset by potential NYC mayoral candidate Anthony Weiner's appearance (campaign signs and all) that they were yelling "GO AWAY! IT'S NOT ABOUT YOU!"