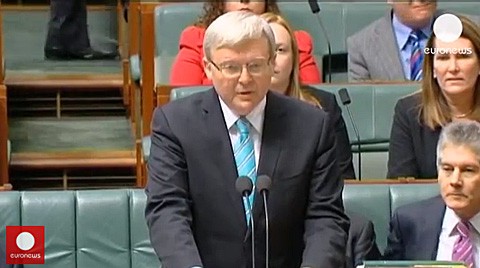 Because of all the marriage news this week I didn't have time to note that anti-equality Australian PM Julia Gillard was ousted by Kevin Rudd, in his second term as Prime Minister, offering hope for that nation's battle over same-sex marriage.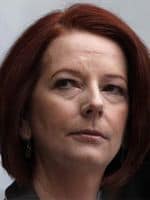 The Brisbane Times reports:
Advocates of same-sex marriage say Kevin Rudd's return as prime minister will increase pressure on Opposition Leader Tony Abbott to allow a conscience vote on the issue, regardless of who wins the election this year.
Mr Rudd's 57-45 vote victory over Julia Gillard at a caucus meeting on Wednesday makes him the first sitting Australian prime minister to support same-sex marriage.
The co-convener of the Rainbow Families Council, Felicity Marlowe, said if Labor won the election her organisation would hope for legislation allowing same-sex marriage to be introduced within the first 100 days of the next Parliament.
Rudd came out for marriage equality in a blog post last May, writing:
I have come to the conclusion that church and state can have different positions and practices on the question of same sex marriage. I believe the secular Australian state should be able to recognise same sex marriage. I also believe that this change should legally exempt religious institutions from any requirement to change their historic position and practice that marriage is exclusively between a man and a woman. For me, this change in position has come about as a result of a lot of reflection, over a long period of time, including conversations with good people grappling with deep questions of life, sexuality and faith.
Watch a Euronews report on Rudd's swearing in, AFTER THE JUMP…