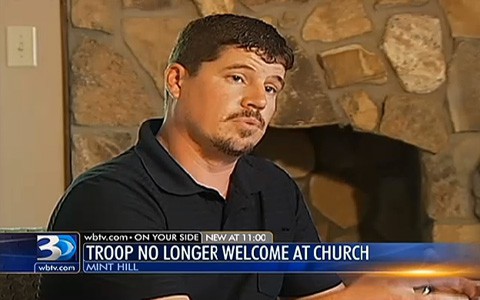 A church in Mint Hill, North Carolina is dumping the Boy Scouts over its policy allowing gay scouts because it is concerned about an older gay scout mentoring younger scouts, WBTV reports:
Pastor Whittier, who is the Youth Pastor and Cub Master, says after the Boys Scouts of America's National Council voted to change youth membership policy and allow openly gay youth to join the scouts, leaders of the Church and the Pack decided to discontinue the charter.
"We just don't see that lining up with core values of what we believe as a church" Pastor Whittier says. "Because of that strong deviation and direction scouting is going, we no longer feel we can participate or support the organization any longer."
Cub Scout Pack 146, which is named after biblical verse John 14:6, has about 30 cubs  – between 6 years old and 10 years old. The cubs are participating in their last scouting activities this week with cub scout day camp.
Pastor Whittier says he was hoping his pack would grow into a Boy Scout troop. Church leaders say they cannot in good conscience support the Boys Scouts and the decision to allow gay youth.
"The Boys Scout motto is that the older boys will mentor the younger boys" says Pastor Whittier. "So potentially an openly homosexual young man is leading 11 and 12 year olds in the Boy Scout motto."
Watch, AFTER THE JUMP…
Last week a church in Marietta, Georgia announced that it, too, was dumping the Scouts. Roswell Street Baptist Church Senior Pastor Ernest Easley crowed that he received a standing ovation from his congregation when he announced he was kicking them out.