Four gay Young Adult literature authors are touring NYC.

Secretary of Stte John Kerry promises fight against homophobia: "As we look at various places in the world, where homophobia raises its ugly, frightened head, we see that there is fear," he said. "And a lot is driven by fear."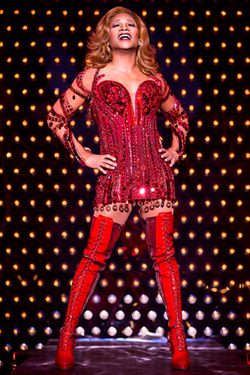 Profiling the boots behind Kinky Boots: "The secret to a high heel that is strong enough for a (dancing) man is in the steel shank. So far, only four pairs have broken, all during early rehearsals. "We have a person who checks the heels every single night," says Barnes. "If there's a problem, the shoes go back to the manufacturer." That would be T.O.Dey, a custom-shoe factory a block from the theater that supplies 80 percent of Broadway shows, says owner Gino Bifulco."

Paula Deen denies she's a racist.

Poll: Minnesotans split on same-sex marriage: "Just weeks after the unions were legalized in Minnesota, a poll by the Star Tribune finds 46 percent of those surveyed support the new law which says gay and lesbian couples have the right to marry beginning Aug. 1. Forty-four percent are opposed and 10 percent are undecided."

Adam Lambert, Andy Cohen, John Travolta, and Zachary Quinto hit Madonna's MDNA after-party.

More images of Madonna in her top hat ensemble.

Kanye West lyrics about Parkinson's Disease blasted: "During On Sight he raps: 'Soon as I pull up and park the Benz / We get this ***** shaking like Parkinson's.' Steve Ford, chief executive of Parkinson's UK said: 'Kanye West has shown an inexcusable level of stupidity and cruelty towards people living with an incurable condition.'"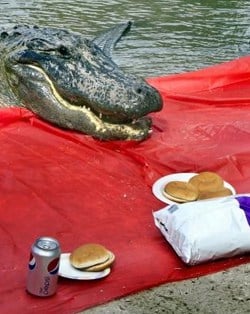 Alligator ruins picnic.

The Fifty Shades of Grey movie will be directed by Sam Taylor-Johnson.

Being gay at a Catholic university: "During the last academic year, I made cross-country visits to several Catholic colleges and universities, all of which are on different points on the spectrum of Catholic culture. I wanted to see what resources are available on Catholic campuses for LGBT students and how the administration reacts."

The Diet Dr. Pepper guy Josh Button shows his intense workout to the world.

Howard Kurtz joining FOX News: "I'm excited to be bringing my independent brand of media criticism to Fox News. I want to thank CNN for giving me such a prime opportunity over the years and was tempted to continue, but the chance to create a revamped program and establish a strong online presence was too good to pass up. I hope to add a new dimension to Fox's coverage and have some fun while diving into the passionate debates about the press and politics."

Delaware governor signs transgender rights bill into law.

NOM joins Pinterest.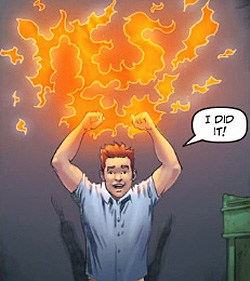 Gay Superhero comic approaches $100,000 Kickstarter milestone.

Facebook announces VIDEO for Instagram.

City of Calistoga, California removes Gay Pride flags: "The City of Calistoga on Monday took down a gay pride flag from city hall after it received complaints from residents. Mayor Chris Canning says the complaints were about the process, or the lack of public process, of why the flag was raised and not about the symbol."

FBI confirms drones used for U.S. surveillance.

Michelle Shocked concert planned for SF Pride is canceled: "In a statement, San Francisco Examiner Publisher Todd Vogt said:  'I am officially canceling the plan to have Michelle Shocked come to San Francisco and perform a free concert and apologize for her recent anti-gay comments. I had hoped that her concert and apology would have held the performer accountable and shine a light on hatred and bigotry, but, unfortunately, it has not. Having Ms. Shocked stand in front of a San Francisco audience and perform her music was intended to help heal, but has only further angered and offended the community. I sincerely apologize to all.'"