New Jersey Governor Chris Christie has appointed his longtime aide and the state's attorney general, Jeffrey Chiesa, to fill the Senate seat held by the late Frank Lautenberg until a special election can be held in October, the Star-Ledger reports: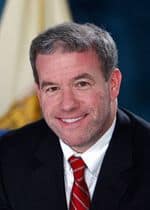 Christie's announcement at a hastily arranged news conference ended days of intense speculation over whom the Republican governor would appoint to serve nearly five months before voters elect a replacement for the 89-year-old Lautenberg, who died Monday.
New Jersey voters haven't sent a Republican to the Senate in four decades.
On Tuesday, Christie made the controversial decision to hold two special elections — an Aug. 13 primary and an Oct. 16 election — to fill the Senate seat at a cost of almost $25 million.
Some Republicans have criticized the approach as a political move on Christie's part, aimed at keeping Newark Mayor Cory Booker — who has expressed interest in the Senate seat — off the November ballot. Booker could attract more Democrats to come out to vote and possibly erode Christie's margin of victory over his Democratic opponent, state Sen. Barbara Buono.
The NYT adds: "Mr. Chiesa served as chief counsel to Mr. Christie from January 2010 through December 2011, when he was nominated to be New Jersey attorney general. Before that, he headed Mr. Christie's transition team after his election."