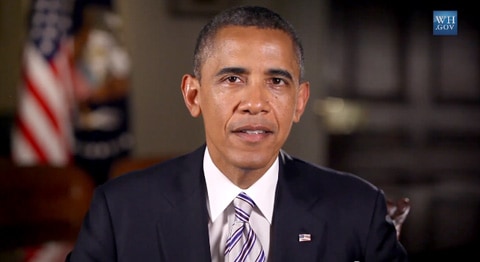 President Obama salutes strong parents, families, and all kinds of fatherhood in his Father's Day message, saying, in part:
I never really knew my own father.  I was raised by a single mom and two wonderful grandparents who made incredible sacrifices for me.  And there are single parents all across the country who do a heroic job raising terrific kids.  But I still wish I had a dad who was not only around, but involved; another role model to teach me what my mom did her best to instill – values like hard work and integrity; responsibility and delayed gratification – all the things that give a child the foundation to envision a brighter future for themselves.
That's why I try every day to be for Michelle and my girls what my father was not for my mother and me.  And I've met plenty of other people – dads and uncles and men without a family connection – who are trying to break the cycle and give more of our young people a strong male role model.
Being a good parent – whether you're gay or straight; a foster parent or a grandparent – isn't easy.  It demands your constant attention, frequent sacrifice, and a healthy dose of patience.  And nobody's perfect.  To this day, I'm still figuring out how to be a better husband to my wife and father to my kids.
Watch, AFTER THE JUMP…