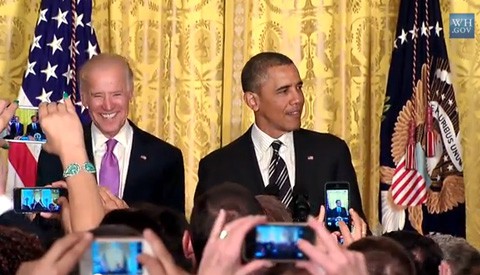 President Obama and Vice President Joe Biden welcomed the LGBT community and its allies to a Pride reception at the White House where Obama urged passage of the Employment Non-Discrimination Act after touting a list of his accomplishments thus far.
Watch, AFTER THE JUMP…
But LGBT advocates would still like an executive order.
Tico Almeida, president of Freedom to Work, said "it's fantastic" that Obama spoke out in favor of ENDA during the reception, but wants the president to take additional action behind the scenes.
"He should follow up his speech today by placing phone calls to lobby ENDA's holdout Democratic senators like Florida's Bill Nelson, West Virginia's Joe Manchin and Mark Pryor of Arkansas," Almeida said. "Between the president, Joe Biden, and the White House legislative team, I bet they could convince those Democrats to support ENDA."
Despite the call to pass ENDA, LGBT advocates who have been calling for the executive order — and weren't in attendance — said they still expect Obama to take administrative action to protect LGBT workers from discrimination.
Fred Sainz, vice president communications of the Human Rights Campaign, said he appreciates Obama's support for legislation, but reminded him that issuing the executive order takes only the stroke of a pen.
"We're elated to have the president's support for ENDA," Sainz said. "But we also want his support for an executive order. ENDA need not come before an EO. People's jobs are on the line and there's no time to waste."
Watch, AFTER THE JUMP…