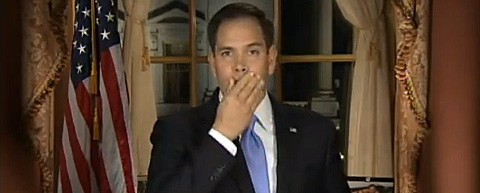 BY SAM GREISMAN
A look back at today's top stories
WINGNUTTERY
Marco Rubio is not at all pleased with the notion that the immigration bill could contain protection for LGBT couples, so much so that he says he is "done" if gay couples are involved. And he thinks it should be legal to fire people for being gay. Michele Bachmann believes that if it passes there will never be another Republican president. Promise? In Michigan, the House Speaker has admitted that he is "struggling" with the idea of adding gays to the state's non-discrimination laws. 
UFC fighter Josh Thomson is just a very confused individual, as he thinks that gay marriage leads to pedophilia and polygamy. A radio host in Australia has been suspended for asking the country's Prime Minister if her boyfriend is gay and implying that their relationship is a sham. And a lawmaker from Wassau, Wisconsin is all hot and bothered over the town's decision to hold its first gay pride parade. 
**
ENTERTAINMENT
Ricky Martin (and some Australian collaborators) have a new dance single out just in time for summer. Jimmy Fallon and New Jersey Governor Chris Christie slow jam the state's special Senate election and there are lots of bare chested men in the first trailer for the sequel to 300. 
**
VIDEOS OF THE DAY
Last night Glenn Greenwald of The Guardian sat down with Anderson Cooper to discuss how right wing wackjob Peter King wants to have him arrested for doing his job and reporting the NSA story. 
Learn all the science behind getting super buff. Also who else REALLY wants to go to Barcelona after seeing this video?