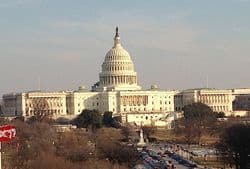 Mike Rogers, a blogger who gained fame in the mid 2000s by "outing" prominent anti-gay politicians, says he currently knows of three anti-gay members of the U.S. House of Representatives who are themselves gay. U.S. News reports:
Rogers refused to say when he might disclose information on these members or what might provoke such a revelation, maintaining that as a journalist he holds some cards close to the vest.
But Rogers said he's about to get his hands on concrete evidence that one anti-gay member of Congress engages in gay sex. "Oh, it's going to happen because it has been happening for a long time," he said.
The blogger's most high-profile triumphs include the 2004 revelation that then Rep. Ed Schrock (R-VA) was leaving voicemails on a gay hook-up service, prompting the two-term congressman to retire. In October 2006 he wrote that three men informed him they had sex with then Sen. Larry Craig (R-ID) in bathrooms at Union Station. Before making his allegations against Craig public, two of his three sources signed affidavits saying they would come forward if Rogers was taken to court. 
If his previous track record is any indication, these new revelations are sure to make waves once the cat is out of the bag. Let the speculation commence.